1 hour QC test before shipment middle-power generator
Product Description
  1 hour QC test before shipment middle-
Power Generator
    Product Description    
Genset
Model
Prime power/
Standby power
Engine model
Fuel
consumption
Cylinder
Displacement (L)
Genset
Dimension
(mm)
 
AD91
83/91
66/73
D1146
20.6
6L
8.1
2700x1050x1570
1500
AD132
120/132
96/105
D1146T
25.9
6L
8.1
2700x1050x1570
1600
AD165
150/165
120/132
DP086TA
33.7
6L
8.1
2700x1050x1570
1650
AD186
169/186
135/148
P086TI-1
35.4
6L
8.1
2900x1100x1719
1750
AD220
200/220
160/176
P086TI
43.1
6L
8.1
2900x1100x1719
1825
AD250
225/250
180/200
DP086LA
48.7
6L
8.1
2900x1100x1719
1825
AD300
275/300
220/240
P126TI
58.1
6L
11.1
3200x1150x1820
2200
AD330
300/330
240/264
P126TI-II
63.1
6L
11.1
3200x1150x1820
2300
AD413
375/413
300/330
P158LE-1
78.7
8V
14.6
3300x1500x1970
2500
AD438-I
400/438
320/350
P158LE
89.3
8V
14.6
3300x1550x2100
2800
AD438-II
400/438
320/350
P158FE
105.1
8V
14.6
3500x1550x2100
3000
AD500
450/500
360/400
DP158LC
99.6
8V
14.6
3500x1550x2100
3000
AD578
525/578
420/462
DP158LD
115.1
8V
18.3
3250x1550x2160
3200
AD550
500/550
400/440
P180FE
120.4
10V
18.3
3250x1550x2160
3200
AD625
563/625
450/500
DP180LA
123.6
10V
21.9
3500x1550x2200
3600
AD700
638/700
510/560
DP180LB
136.4
10V
21.9
3550x1550x2200
3600
AD715
650/715
520/572
P222FE
148.5
12V
21.9
3800x1550x2200
3900
AD756
688/756
550/605
DP222LB
147.1
12V
21.9
3530x1550x2200
3800
AD825
750/825
600/660
DP222LC
161.0
12V
21.9
3600x1550x2200
3800
Genset Standard Configuration
♦ Assembled by Doosan Diesel Engine and world famous brand alternator
♦ Radiator and fan with safety guard
♦ Automatic control panel and electricity output switch cabinet
♦ Float battery charger and solenoid switch as standard supply scope
♦ Built-in shock pad
♦ Strong and durable hi-strength base frame
♦ Optional voltage rank: 230V/400V, 220V/380V, 127V/220V, 240V/480V etc.
2 Alternator

3 Water tank radiator

4 Automatic control panel

5 Electricity output switch cabinet

6 Built-in shock pad

7 Hi-strength Base Frame
DeepSea 6020:
It is a self-starting control module at mains failure and is suitable for controlling a single genset. It provides advanced engine testing and protection functions. This module includes an LCD backlit display that clearly displays the engine running status. The module also includes 7-channel input and 6-channel output. Program can be set through the panel and PC software suite.

Parameters:
Deepsea 6020 controller provides such parameters as generator frequency, idling/overspeed, generator voltage, generator current, engine oil pressure, engine water temperature, flexible fuel level, running hour, battery voltage, start/stop failure, emergency stop, failure to meet operating voltage/frequency, charging failure, magnetic sensor signal loss, low battery voltage, three-phase mains voltage and mains frequency.

Protective functions:
♦ Low oil pressure
♦ High water temperature
♦ High/low voltage
♦ Over speed
♦ Voltage regulator frequency regulator
♦ Emergency stop
♦ Start failure
Product features:
♦ Protection: Automatic start/stop, load switching and genset alarm
♦ Magnetic sensor signal
♦ Parameters setting via PC and panel
♦ Incorporates 4-channel digital input signal and 3-channel analog input signal
♦ 6-channel output signal (4-channel customized output, CAN 6-channel customized output.)
♦ Monitoring of 3-phase generator voltage and mains voltage
♦ Remote loading/unloading
♦ Advanced measurement capabilities
♦ Test button
♦ Switch between mains and genset power
♦ Reasonable structure and button layout
♦ Multiple engine parameters can be tested simultaneously
♦ Module can be configured according to customer demand
♦ IP65 protection (soundproof)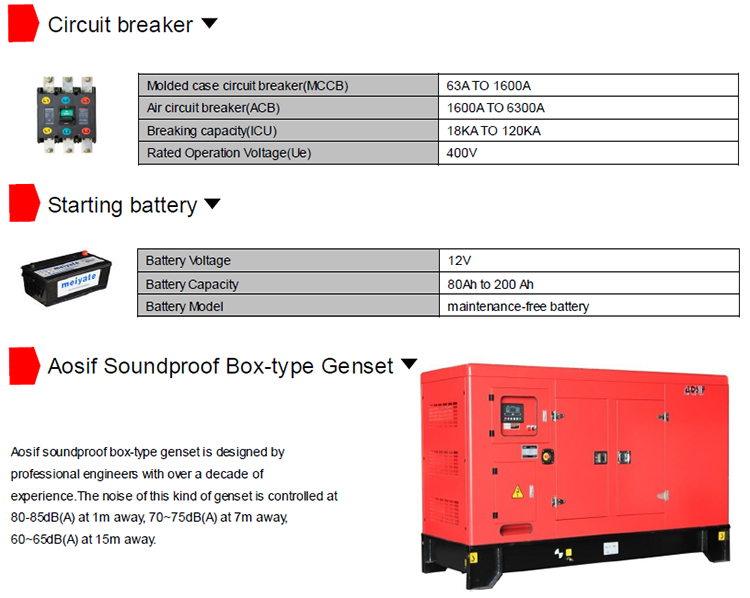 ♦ Multiple air inlets/outlets ensure power performance of the genset.
♦ Large composite impedance muffler effectively reduces the genset noise.
♦ Internal high-performance rubber shock absorber and flexible materials can reduce vibration.
♦ Fuel tank at the bottom can enable the genset to work for 8 hours.
♦  Soundproof enclosure is made by cold steel.
♦  The best powder coating with chemical surface treatment ensure corrosion resistance and coating quality.
♦  Nice appearance and reliable quality.
♦  Stainless steel locks and hinges.
♦  All-weather operation is available.
♦  Fireproof, waterproof and dust-proof
♦  High-performance insulation materials can effectively reduce noise.
♦  Transparent sight glass allows users to clearly see the content of
control panel.
♦  Emergency stop button mounted outside the genset to facilitate
emergency operations.
♦  Coolant filler is set on the top of the enclosure.
♦  Lubricant and coolant pipes are installed at the bottom of the
genset to facilitate replacement with new lubricants and coolants.
♦  Battery is accessible through the access door.
♦  Cooling fan and battery are fully monitored.
♦  Insulated exhaust system is installed inside the genset.
♦  Type of forklift frame is optional.
♦  180° rotatable and detachable door is designed for ease of
maintenance.
♦  Concave lockable access door has a long lifetime.
♦  Lights inside the genset are available for maintenance.
♦  Lugs are mounted at the bottom of the base.
♦  Top lifting mechanism is the standd configuration for high-power
genset.
        Contact Us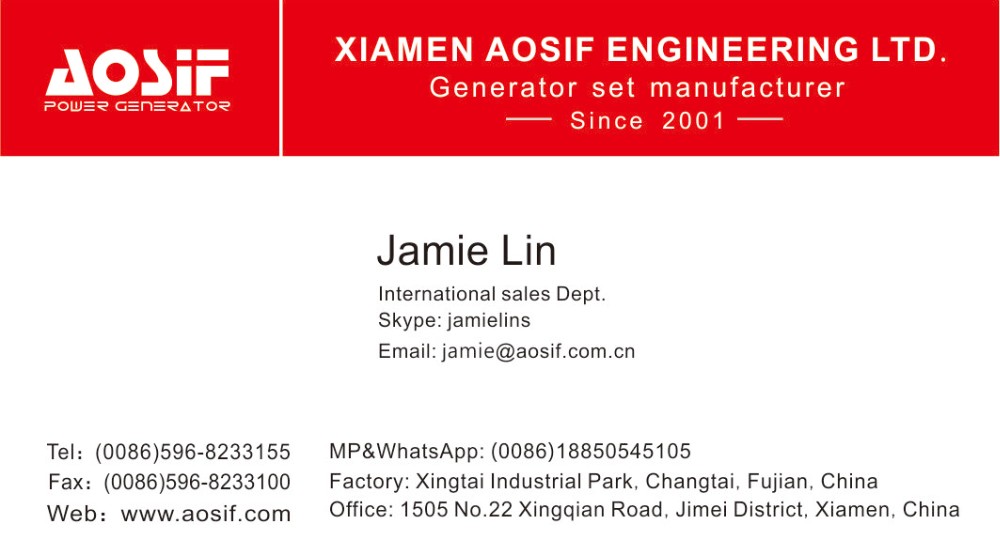 Contact us if you need more details on Generator. We are ready to answer your questions on packaging, logistics, certification or any
Other
aspects about High-power Generator、1 Hour Qc Test Before Shipment High-power Generator. If these products fail to match your need, please contact us and we would like to provide relevant information.
Product Categories : Power By Doosan Engine > 50HZ Power By Doosan Engine